27 Retro Kitchen Design Ideas And Resources
We love a retro kitchen at Wood & Wire so we've compiled the best round-ups and ideas featuring 100's of designs and ideas, so you don't have to.  Anything missing? Just let us know!
About Us? We are Wood & Wire, a small British team of designers and craftsmen. Our mid-century style, bespoke plywood kitchens and furniture are designed and manufactured by us in our UK workshop. 
25 Retro Kitchens for Throwback Renovations – Elle Decor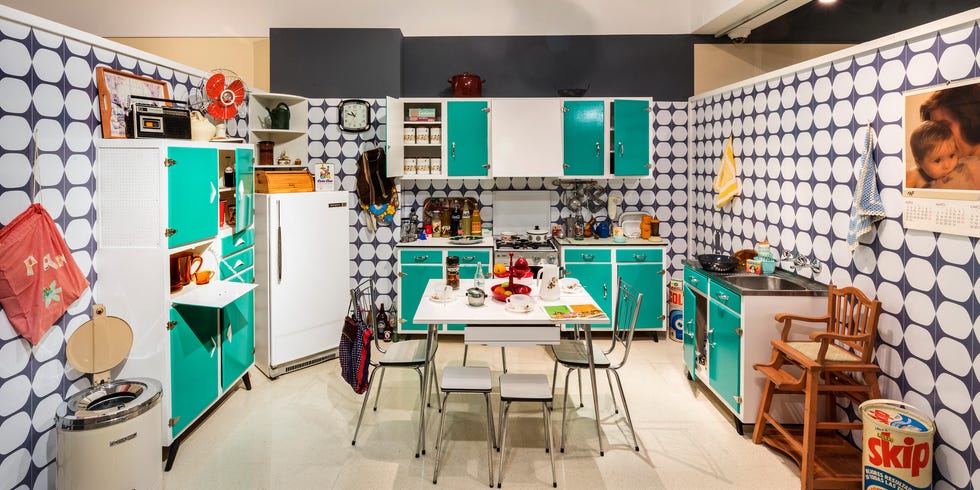 Elle Decor rounds up 25 best retro kitchens to inspire you with the ultimate in throwback renovations. Retro kitchen wallpaper and vibrant cabinets? Count us in. Source
Retro Kitchen Ideas- Good House Keeping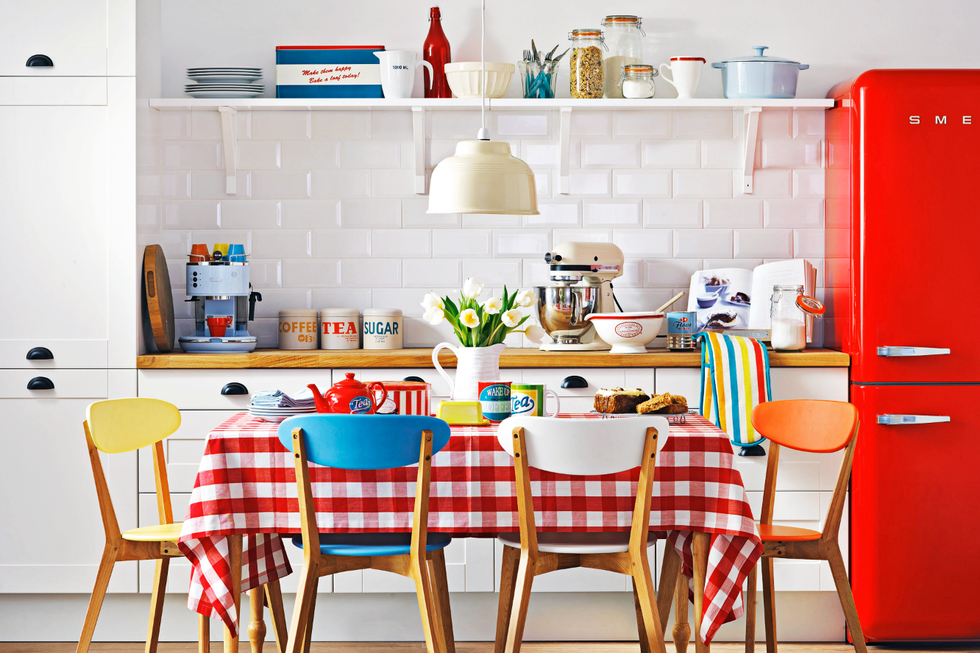 Good House Keeping recommends adding brightly coloured accessories to uplift a dull traditional white kitchen. For a bigger statement add a retro fridge in a lively colour to stay on theme.
Source
Retro Kitchens: 11 funky ideas to inspire your design – Real Homes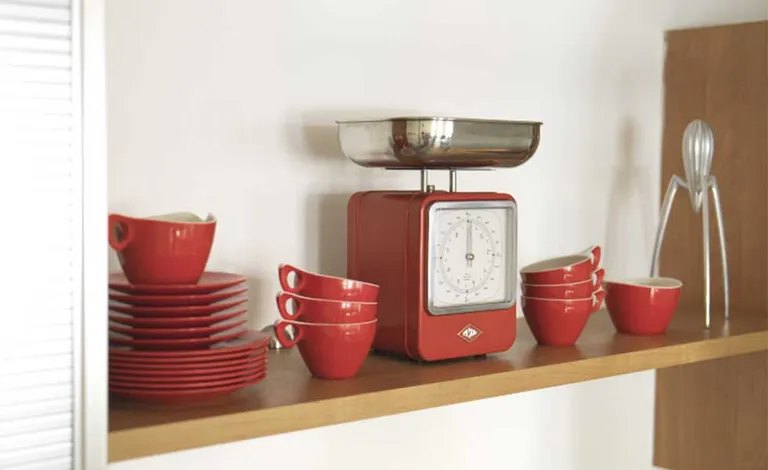 Presenting 11 funky ideas including introducing melamine accessories to your kitchen, Real Homes Anna Cottrell looks to inspire your kitchen revamp. She says. "Retro cabinetry and worktops work very well in small kitchens – making them attractive to small homeowners –, while they work a treat in livening up period properties too, for those who want to steer away from keeping everything classic."
Source
Crème de la Crème – John Lewis of Hungerford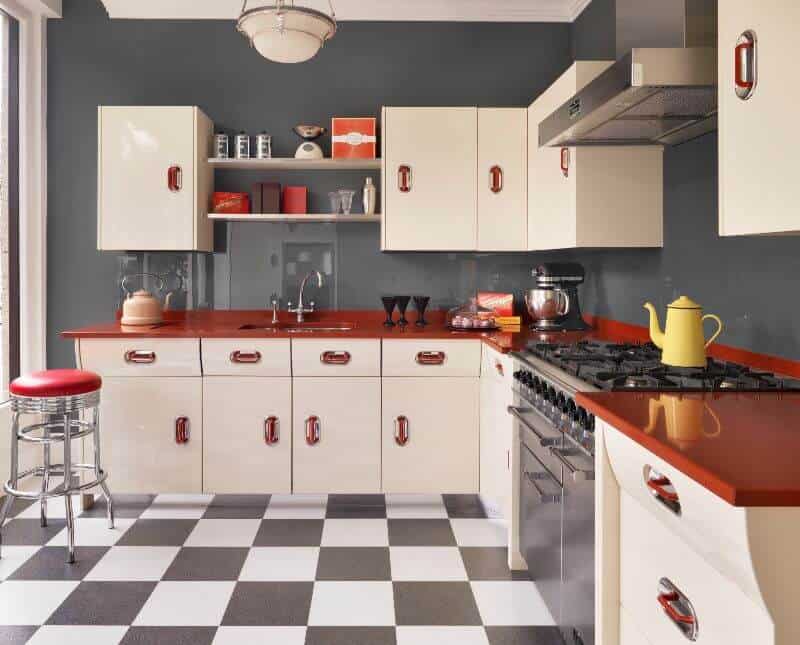 Inspired by the famous English Rose kitchen units, JL launch their own take on this iconic American inspired design. Source
12 1950's Kitchen Ideas – The Spruce

The Spruce presents 12 spiffy 1950's kitchen ideas for you to get your teeth into. Ashley Knierim says "Consider adding pops of bright colour in exposed shelving, on countertops or above the fridge to give any kitchen a more retro feel."
Source
Best Retro Kitchen Ideas – Your Home Style

Your Home Style suggests that not everything needs to be new when creating your own retro kitchen. Some great pieces such as this one can be found on market sites like EBAY.
Source
Retro Kitchen Ideas – Ideal Home
10 ideas from Ideal Home. They say "There are certain design ingredients that make up the ideal retro-chic recipe. A palette of colours that are so of their moment, plastic furniture once ground-breakingly space-aged, spiky plants and a hint of iconic imagery. It may sound like the potential for design disaster, but it all comes together so beautifully in these retro kitchens." Here vintage signage is used to throw back the scheme to yesteryear.
Source
Vintage Retro Kitchens – Pinterest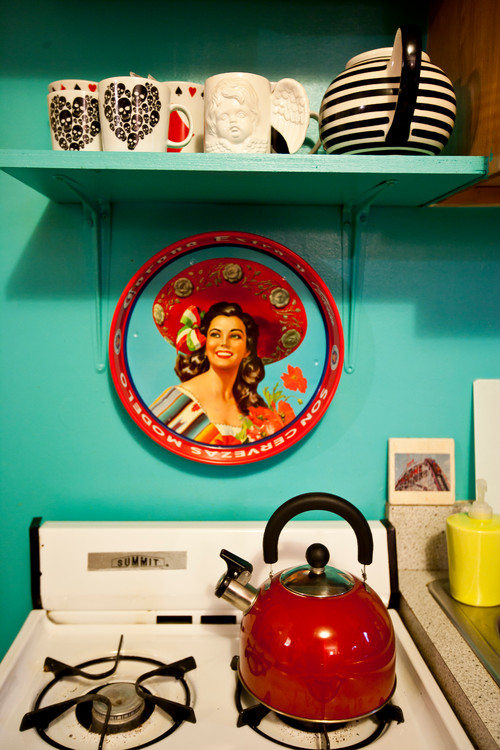 If you're wanting to embrace full-scale colour, bright cabinets with complementary walls are great in small kitchens as they give the illusion of space as Kitchen Design Ideas Pinterest board 'Retro & Vintage Kitchens' shows.
Source
Retro Kitchens of Yesteryear That Will Make you Nostalgic – Love Property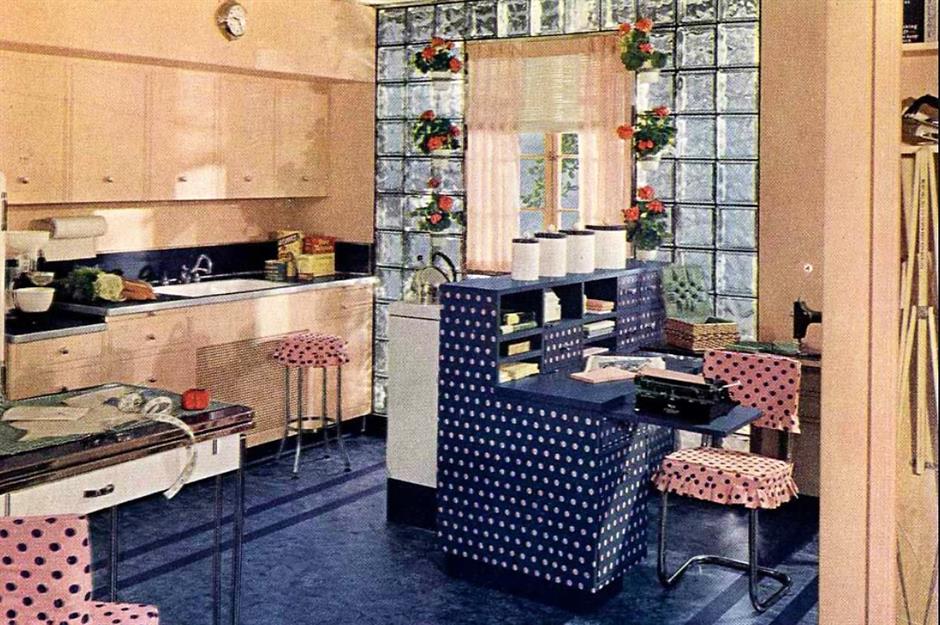 Love Property line up some iconic trends from 1940- 1980. We're digging the wallpaper office island of this polka dot kitchen and how the kitchen in this scheme shows a multi-functional office, dressmaking area. Seems 2020 has brought us full circle!
Source
Retro Kitchen Appliances (White Goods) – Big Chill

Retro = Pastels and no kitchen is complete without appliances. American company Big Chill breaks into the UK market in 2019 offering a capsule collection of fridges, cooker hoods and ovens in 6 different colours to ensure your kitchen is 'all in'. Source
Retro Kitchen Cabinets – Wood & Wire

Creating your own retro kitchen with the Wood & Wire team is simple. The Dellen's asked us to help them realise their retro dreams. Our signature birch plywood cabinets were laminated with red and multi-blue surface finishes to create a fresh approach to a traditionally retro colour combination, and we're really impressed with the results. Source
30 Retro kitchen ideas – Air Tasker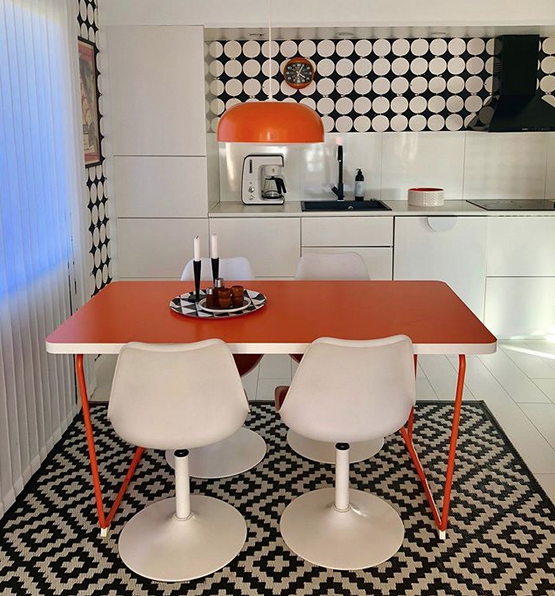 Retro kitchen ideas, from floor to ceiling and everything in between. This blog includes many ways that you can achieve a retro kitchen for yourself. Source
Kitchen with Retro Appliances – Smeg
Italian company Smeg is the penultimate in freestanding retro white goods and small electrical appliances. With over 20 colours to choose from in some ranges, we promise you'll be spoilt for choice.  Source
Retro Kitchen Ideas – Ideal Home
10 ideas from Ideal Home. They say "There are certain design ingredients that make up the ideal retro-chic recipe. A palette of colours that are so of their moment, plastic furniture once ground-breakingly space-aged, spiky plants and a hint of iconic imagery. It may sound like the potential for design disaster, but it all comes together so beautifully in these retro kitchens." Here vintage signage is used to throw back the scheme to yesteryear.
Source
Retro Kitchen Bin – Wesco

Colourful accents are an easy and relatively cheap way to give your kitchen a retro injection. German company Wesco has been producing kitchen bins since the end of the second world war. Available in up to 20 colours, the Wesco range is bound to have what you need to complete the look you're after. Source
19 Retro Kitchens That'll Make You Want to Embrace Vintage Vibes – Apartmenttherapy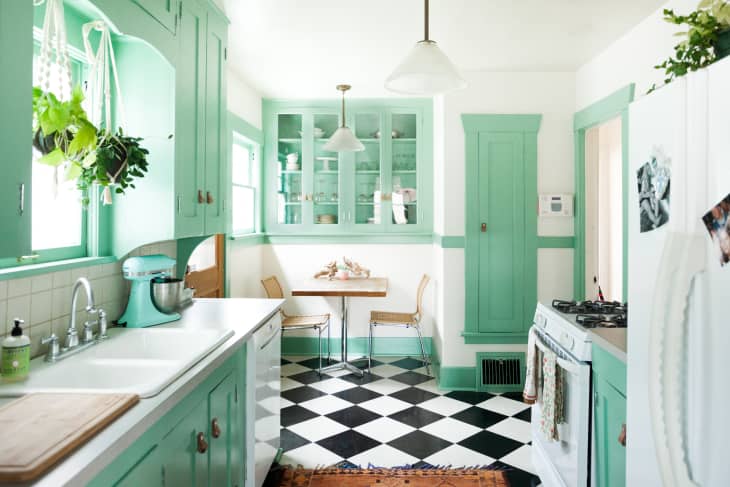 Adrienne Breaux from Apartmenttherapy says "There's no one "correct" retro kitchen flooring. From linoleum to tile to wood, lots of flooring types can give a vintage look to a kitchen. But there's one show-stopping style that will always give off strong retro vibes: a black and white checkered floor!" Source
Retro Kitchens – Pinterest

Jennifer Brocks Pinterest board 'Retro Kitchens' is a compilation of retro ideas. Here these lemon yellow retro kitchen tiles as shown in retro renovation's blog are oh so 1950's.
Source
Modern Retro Kitchens – Red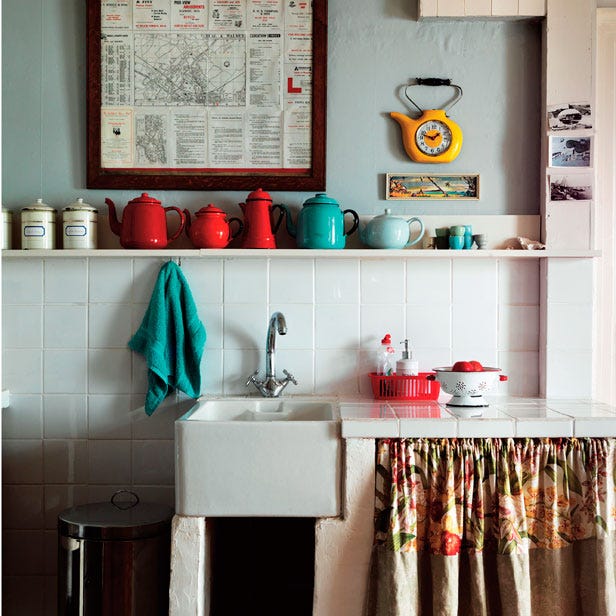 Tabitha Stapely from Red says. "Even the tiniest kitchen can have some retro chic. This mini butler sink is given cheery accents with the collection of enamel tea pots, which are easy to find at local car boot sales."
Source
The Best Modern Range Cookers – The Telegraph

On the subject of retro kitchen appliances, we thought this article from The Telegraph was a smashing buyers guide to range cookers and the different fuel options available. Almost always available in multiple colours, a traditional range makes a perfect kitchen statement piece.
Source
Modern Retro Kitchens – Wood & Wire

When the Hardys approached us for their new kitchen, they were clear that they wanted a retro-modern design. Wood & Wire produces cool retro kitchens in any colour or veneer. Follow the link for full details of the Hardys 1930's kitchen renovation, Halifax, UK.
Source
Retro Kitchen Units – Wood & Wire

We were super-excited to get the chance to design this 70's style plywood kitchen in gorgeous green and orange for our client: an avid mid-century style enthusiast. Ian was keen to express his love of green throughout the scheme, even right down to the fleck running through the dining table surface that we made to match the kitchen units. Source
25 Lovely Retro Kitchen Design Ideas – Architecture, Art, Designs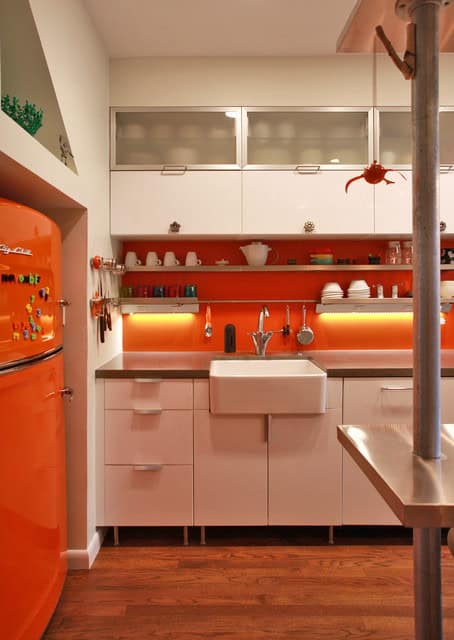 An inviting collection of 25 retro kitchens for you to be inspired by. Here this lovely retro vintage kitchen shows how easy it is to introduce the look to a standard white or cream kitchen with the clever use of colour.  Source
20 Elements To Use When Creating a Retro Kitchen – Homedit.com

Check out these 20 elements to use when creating a retro kitchen. Start your redesign today!  Source
Retro Kitchen Accessories – Wesco

Lime tones and citrus inspirations are very retro. Wesco offers fab colourful metal accessories for cool retro kitchens. Available in up to 9 colours. Source
Vintage Kitchen Accessories – The Vintage Kitchen Store

If thrift, recycle and reuse is more to your liking then The Vintage Kitchen Store could be worth a visit. Their splendid collection of retro kitchenware and household items is a treasure trove of nostalgia. Source
Retro Kitchen Appliances UK (Small Electricals) – Kitchen Aid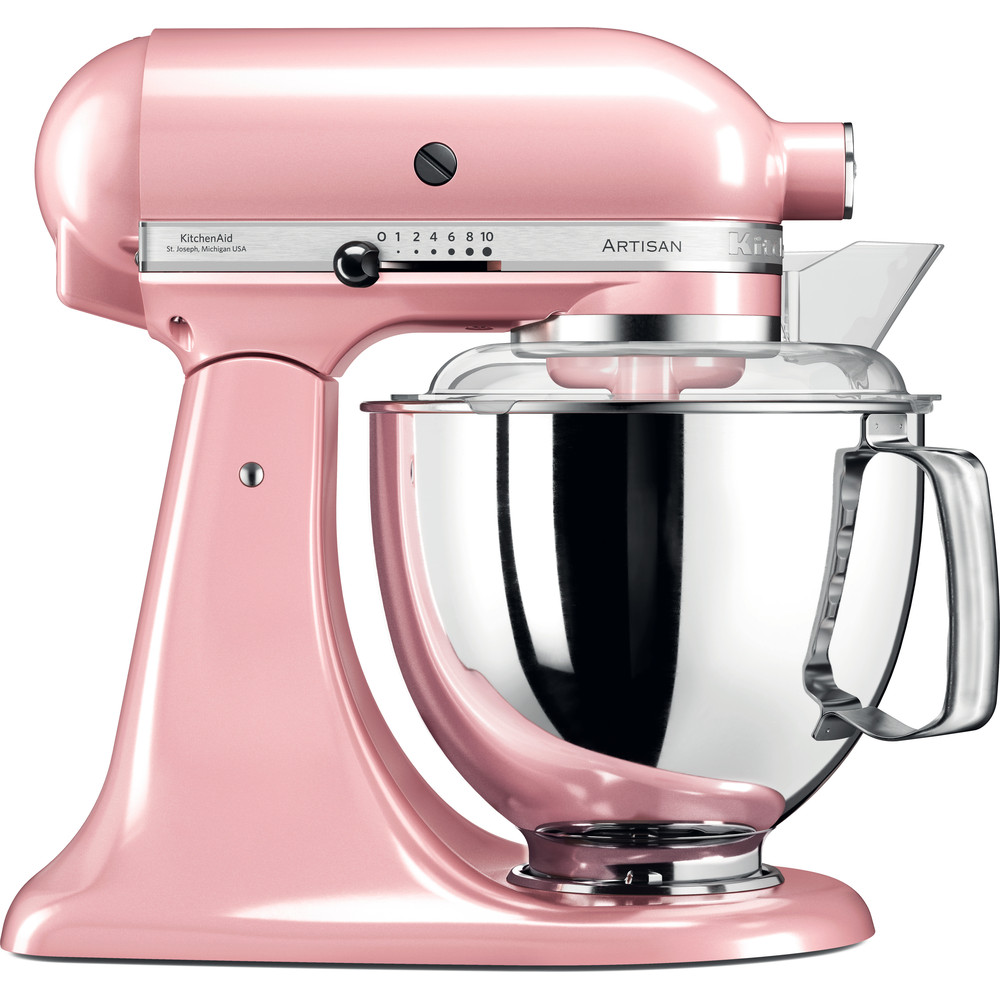 American company KitchenAid has been whipping up a storm in the kitchen for over a century. As the 'inventors' of the first egg beater, this company is still considered the market leader in all things 'kitchen mixing'. If you're as serious about baking as you are the retro trend then one of these is a worktop must-have.  Available in up to 25 colours, KitchenAid not only sells food mixers but lots of other colourful countertop appliances for the kitchen of your dreams. Source
Retro Kitchens UK – Homes and Antiques

Our retro round-up wouldn't be complete without including the English Rose kitchen. Named the 'Rolls Royce' of kitchens, this metal kitchen cabinet company sprang up after the war as the result of surplus material. Homes and Antiques give advice on how to get your hands on a vintage design like this one.
Source