41 Mid-Century Modern Kitchen Design Ideas And Resources
Looking for some mid-century kitchen ideas? Look no further. We love a good midcentury kitchen at Wood & Wire so we've compiled the best round-ups and ideas featuring 100's of designs and ideas, so you don't have to.  Anything missing? Just let us know!
We are Wood & Wire, a team of designers and craftsmen. Our mid-century style, bespoke plywood kitchens and furniture are designed and manufactured by us in our UK workshop. 
Beautiful Mid-Century Kitchen Ideas And Designs – Houzz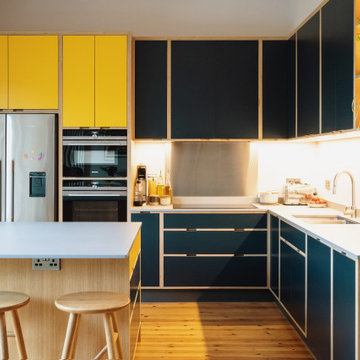 Delighted to see us included in this latest Houzz round-up of the beautiful mid-century kitchen ideas. One of our most popular colour combinations here, black with pops of yellow accentuated with white walls, worktops and splashbacks.
Source
12 Timeless Mid-Century Modern Kitchens – House Beautiful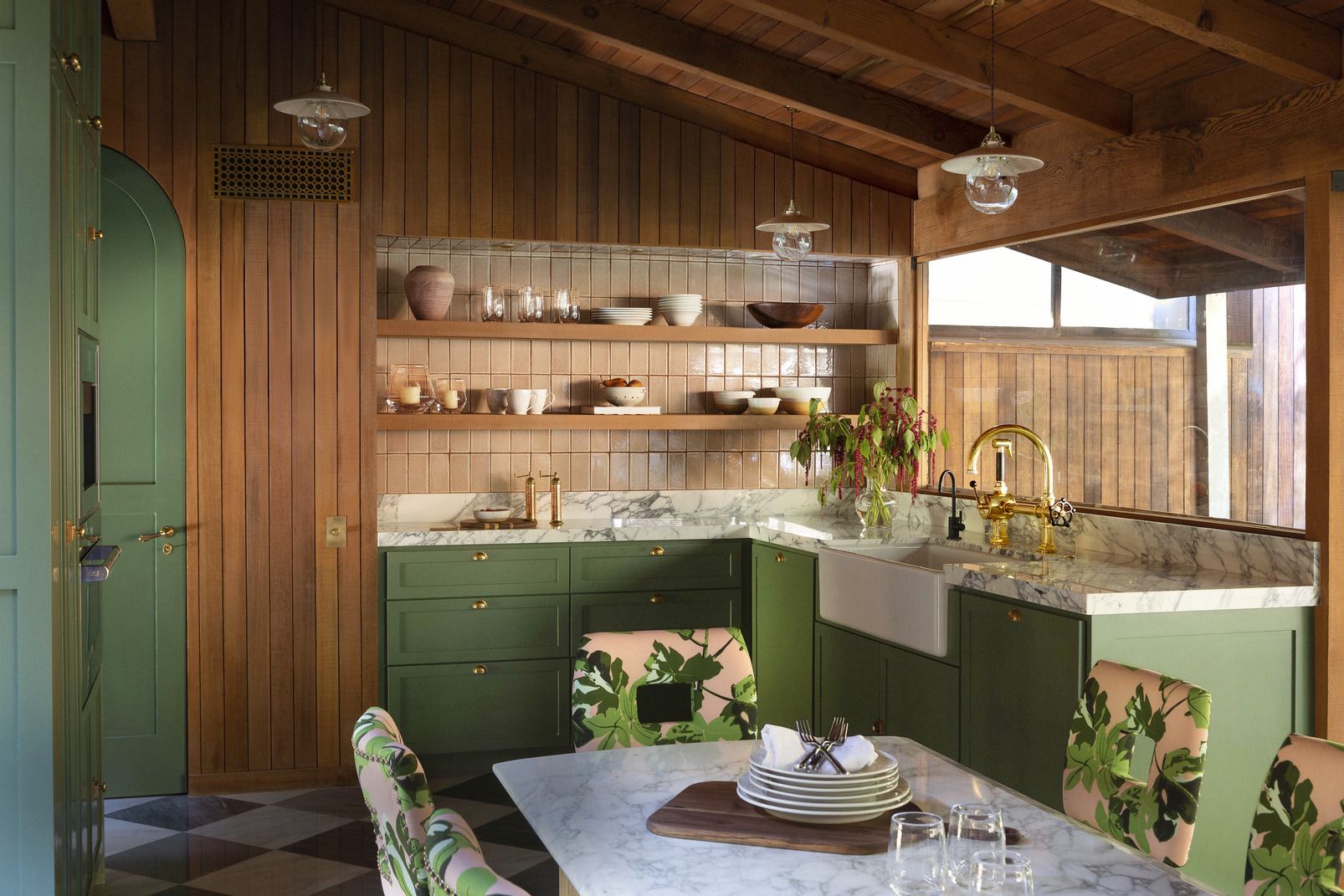 Stacked tiles pay homage to the signature geometric trend of the mid-century in this LA kitchen, from Jaqui Seerman. However, it's the colour combination we're living for in this scheme. Teak panelling with palm green and pale pink. Neutral tones and natural materials along with the huge window bring the outside into the kitchen and with it a real sense of calm.
Source
41 Stylish Mid-Century Modern Kitchen Ideas – The Spruce

We see it so frequently that we have to include a tribute to what not to do to your mid-mod kitchen. The ceiling, the light, the open space, the huge windows… yes yes yes! The kitchen install, now, each to their own but we're so sorry to say this is a no from us. The handles and bar stools feel clumsy and attract too much attention. The lighting above the island could be a real statement-maker but instead, it's invisible. We could, but we won't go any further, all we'll say is, if you have the mid-century house of your dreams and want to do a refurb get in touch!
Source
190 Best Mid-Century Modern Kitchen Design Ideas – Pinterest

On the subject of mid-century modern kitchen handles, if we said what not to do above, here's a stunning example of what you could do instead. Collected from FORM's mid-century modern kitchen design board, the sweeping graceful curves of these kitchen cabinet handles aren't an afterthought, instead their an integral part and key feature of the scheme.
Source
17 Mid-Century Modern Kitchen Elements & Ideas – My Domain

If you're not able to have your kitchen and its handles crafted seamlessly, nor want to go full steam ahead with all in mid-century style, an off-the-shelf kitchen handle like these featured in My Domains blog can do the trick without being over bearing and attention-grabbing. Now whilst the scheme above isn't mid-century per se the handles and geometric stacked tiles pay homage to their roots.
Source
20 Mind-Blowing Mid-Century Modern Kitchen Ideas – Pinterest

This mid-century kitchen pinned by ArchitectureArtDesigns has been refurbished in all the right ways. It's been modernised but sensitively so. I'd definitely say this is one of my favourite mid-mod renos as it has all the key elements we love so much about the style. Enveloping wood, natural materials and finishes, picture windows, geometrical lighting. And the ceiling… Just WOW!
Source
Mid-Century Modern Kitchen Ideas – Houzz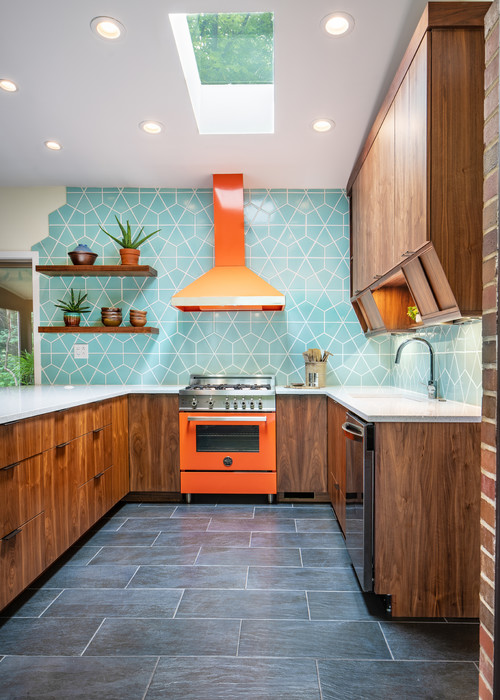 Houzz round-up the best mid century modern kitchen design from across the pond. Demonstrated here is the later mid-century kitchen style which was awash with natural and popping colours. Kelly Ann Photography captures that in this stunning 1950s home remodel in Yellow Springs, Ohio. We think the angled cupboards and statement appliances are just gorgeous.
Source
Mid Century Modern Kitchen Ideas – InteriorZine

Sleek cabinetry is a hallmark of both Modern Minimalism and Mid Century Modern design stylistics. This style is characterised by flat panelling on doors and fronts, frameless constructs and clear shapes. This InteriorZine roundup is packed with inspiration.
Source
Key Mid-Century Modern Kitchen Elements And Ideas – MyDomaine.com

Shapes, colour and the matte finish make this a quintessentially midcentury modern kitchen fit for any colour fanatic. MyDomaine has rounded 17 key principles and modern examples worth checking out.
Source
Best Mid-Century Modern Kitchens For Inspiration – Curated Interior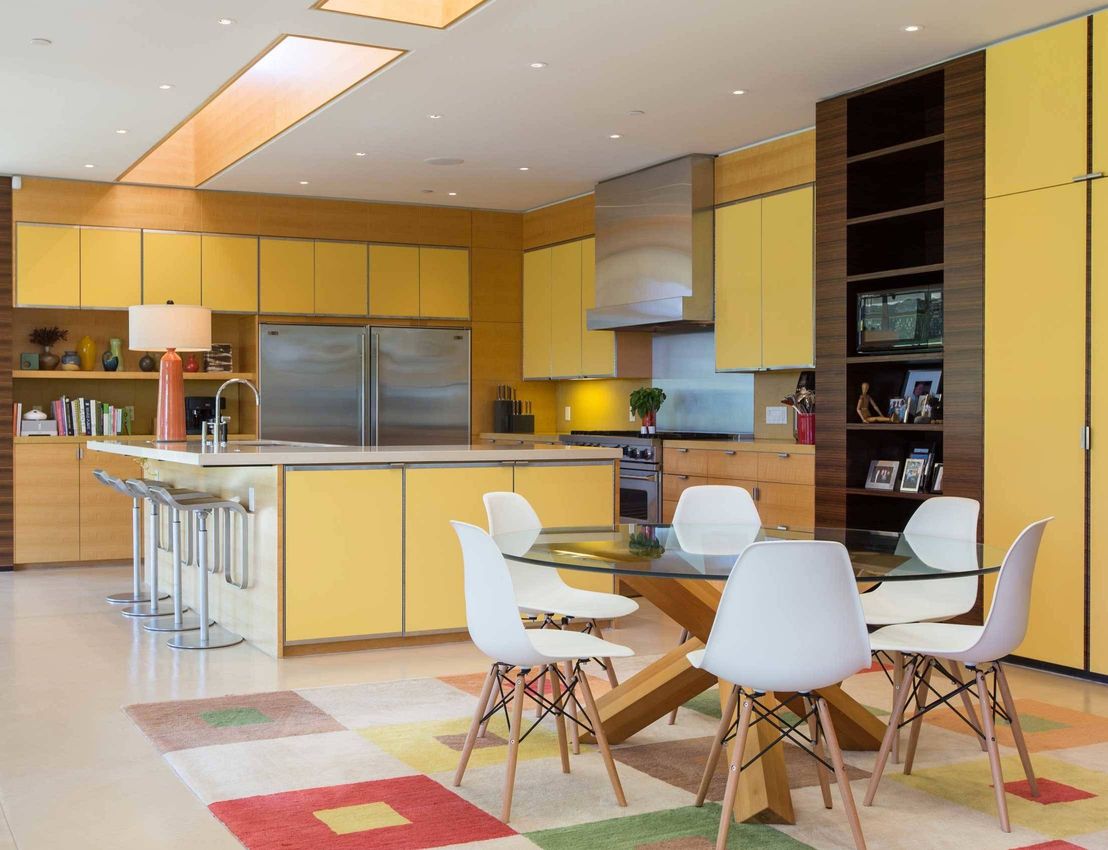 We absolutely love a yellow kitchen here at Wood & Wire and thought this example featured in Curated Interiors article was a must-have for our mid-century round-up.
Source
Mid-Century Modern Style Kitchens Inspiration And Ideas – Kitchinsider

This colour-blocked kitchen in muted mid-century tones really caught our eye. Keep accessories and clutter to the bare minimum for this to have maximum effect.
Source
Stunning Midcentury modern kitchens – The Spruce

Deirdre Sullivan of The Spruce shares 12 ways to add some mid-century style to your kitchen. Here, Oregon based designer Sarah Phipps renovates these mid century kitchen cabinets of this once dreary kitchen. Flat front cabinetry and pastel colours were a common feature of this period.
Source
Adorable Mid-Century Kitchen Ideas – InteriorZine

Nadia at InteriorZine gives a potted history of mid-century modern kitchen design and clear advice on how to get the look. She also jam-packs in wonderful contemporary examples of the trend. Honesty in materials and natural colours were a big part of the mid century ethos so we've been drooling over how these sumptuous materials and rich colours meet in this beautifully simple kitchen. Image credit Murray Barker
Source
Popular Midcentury Kitchen Design Ideas for 2020 – Houzz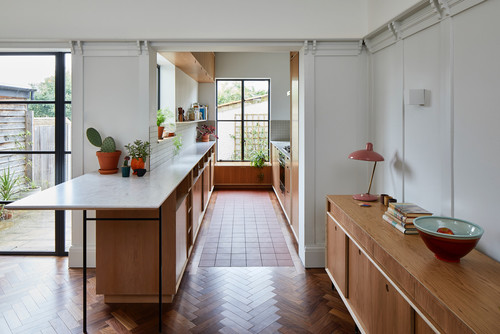 Galley kitchens are a common feature in mid century homes. We're in love with this example by Eckford Chong Design. More details on this veneered plywood, sliding door kitchen can be found in the Houzz round-up of their most inspiring midcentury kitchen ideas.
Source
Memorable Mid Century Modern Kitchen Renovations – Dwell

A great mid-century kitchen renovation compilation by the Dwell team. The Benit House, Houston (pictured here) was flooded by Hurricane Harvey and lovingly restored over the course of 11 years. Open plan living was born in this era so the floating shelving over the kitchen island helping to define the kitchen and the diner really caught our eye on this one.
Source
Atmospheric Mid Century Modern Kitchen Designs- DigsDigs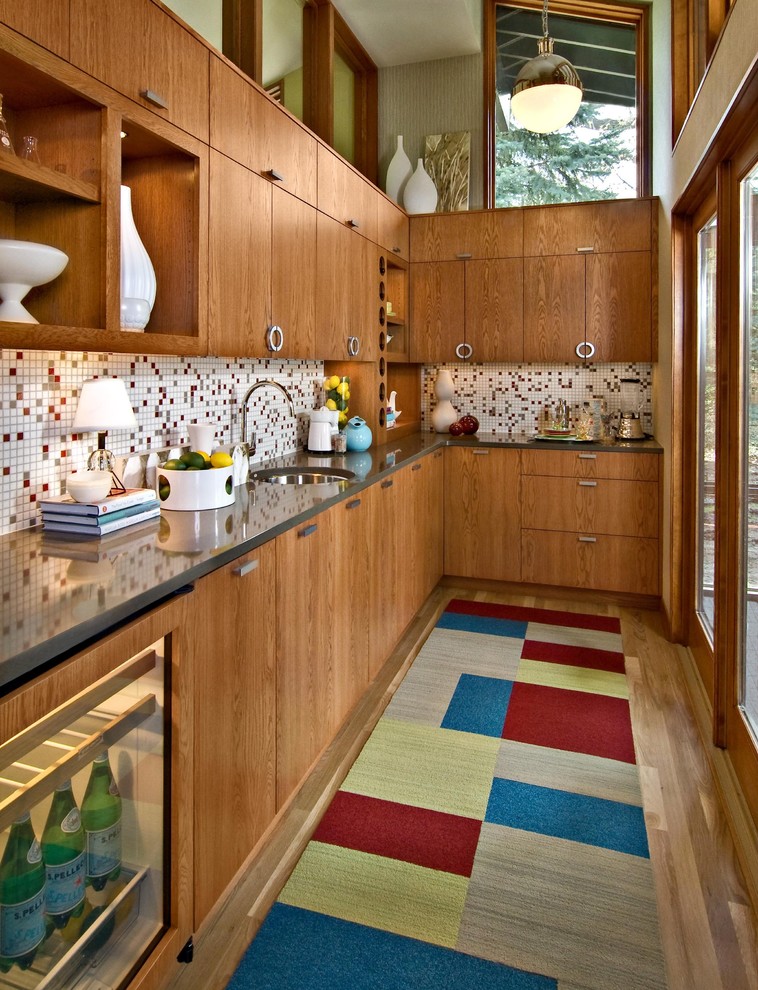 Digsdigs round up 39 atmospheric mid century modern kitchen designs for you to savour. Natural light is a key architectural feature of the period so we were instantly drawn to that and the warmth created by the veneered cabinets in this Minneapolis home. Mid century galley kitchen by Design By Lisa.
Source
Kitchen Designs T0 Take You Back To The Vintage Era – Architectureartdesigns.com

This article covers kitchen interiors with modern features but with more colours than recent contemporary styles. The Anderson residence by Bunnyfish architecture shows how 'Wow' an open plan space can be when you've got the space. Make the most of design features such as this mid century modern kitchen island with 8 seater table. Complemented by the Eames Molded Side Chair with Eiffel Tower Base.
Source
Mid Century Modern Blue Kitchen – Wood & Wire

When the Hollingtons approached Wood & Wire for their mid-century kitchen furniture, they had a very clear brief of how they wanted their bespoke plywood kitchen to look. Follow the link for full details of the Hollingtons stunning grade 2 listed 1960's kitchen renovation, York.
Source
K2 System Kitchen – Cantilever Interiors

The style of the era was unadorned, simple and fuss-free. We think Australian kitchen company cantilever interiors do a fabulous job of that with their mid century modern kitchen cabinets. This stunning colour-block kitchen with cantilever units, great for giving an illusion of more space.
Source
The Strum Residence – Socal Modern

Bold colours meet in this 1958 property on Long Beach, CA. We're very fond of the little sliding door cupboards but especially the original turquoise Formica worktops combined with the mid-century walnut kitchen. We want to move into this one!
Source
Mid Mod Kitchen Before and After – Fire Clay Tile

It wasn't so much the cute birch ply units that we spied here but the statement floor tiles that caught our attention on this before and after article. Traditionally, a mid-century kitchen floor tile would be something natural like stone but we just couldn't resist mentioning these. Statement geometric tiles were a thing back then. Fire Clay Tile, San Fransisco handmake every tile for your project and offer a free design service. They also ship internationally should they take your fancy.
Source
Incredible Mid Century Modern Kitchens – One Kindesign

Mid-century kitchen wallpaper is commonly bold colours with geometric repeat prints. Here a statement appliance and adorable Orla Kieley colour pop wallcovering lift the sterile white units to make this kitchen fresh and appealing. We're also partial to the stainless steel Belfast sink and mini bar.
Source
Great Mid Century Design Kitchens – The Wow Decor

Architecture during this period is renowned for its light and connection with outside. These mid-century modern wood kitchen cabinets feel right in the heart of their surroundings. We're also super keen on the stainless steel work surface which flows seamlessly up onto the wall and onto the sill. Superb design detailing on this one.
Source
Mid Century Remodel Floor Plans – Clickamericana.com

In this article, clickamericana collate vintage mid century kitchen magazine cut-outs on how to floor plan the perfect kitchen for your needs. In this one, they discuss making provisions in the kitchen for all the new electrical appliances coming onto the market and remind us of how ecstatic we feel when we open our dishwasher!
Source
At Home With Mid Century Designers – Remodelista

Remodelista discusses Leslie Williamson's 2015 book. 'Modern Originals: At Home With Midcentury European Designers'. We captured this mid-century kitchen sink cabinet designed by Renaat Braem as we thought it was just delightful.
Source
Marvelous Mid Century Design Kitchens – Home Design Lover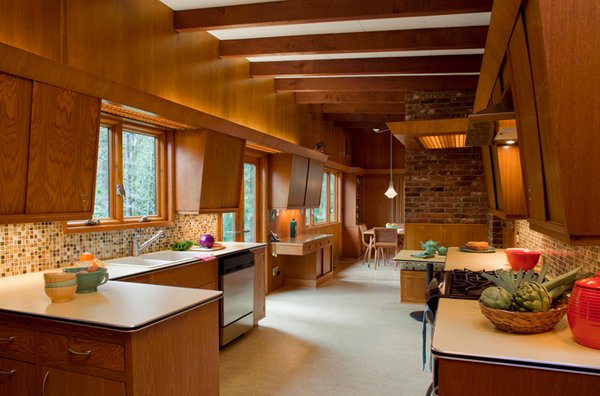 In this feature Home Design Lover list 15 of their favourite Mid century kitchens. Our favourite is this one, featuring an excellent example of angled wall cupboards and Formica worktops with steel edge trim, key features of the mid century style.
Source
Elements to Give Your Kitchen Mid-Century Makeover – Home Edit

Vera Dordick lists 15 ways to give yourself a mid-century kitchen makeover. Bang on trend for the moment is the mid century modern kitchen nook which we've been asked for quite a lot recently. And, along with our upholstery partners, we're easily able to create for you.
Source
A brief history of the 1950s 1960's kitchens – Apartmenttherapy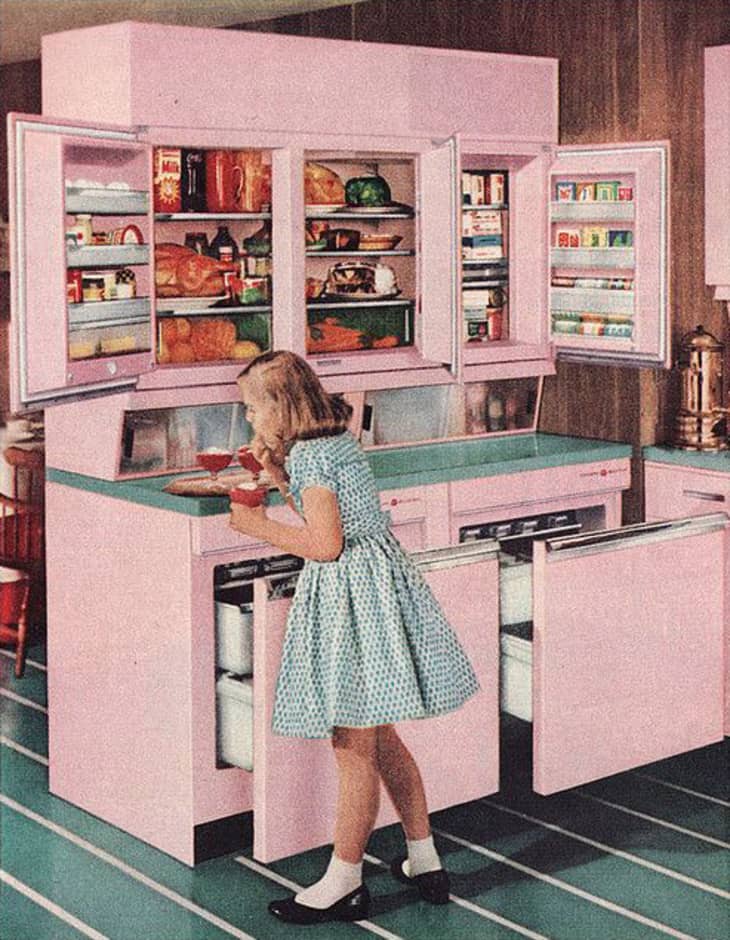 Electrical appliances were 'the thing' in mid century kitchen design. We were bowled over by this 1950 ultimate refrigeration station from GE. And, it's in pastel pink, swoon.
Source
How to Create a Mid-Century Kitchen with a Retro Vibe – Your Home Only Better

Susan gives advice on how to style your kitchen using brightly coloured Big Chill mid-century kitchen appliances. Unfortunately, these are unavailable in the UK. However, if you want to get your hands on a coloured appliance fix we recommend Gorenje and Smeg.
Source
The best modern range cookers – The Telegraph

On the subject of mid-century kitchen appliances, we thought this article from The Telegraph was a smashing buyers guide to range cookers and the different fuel options available.
Source
Ways To Make Your Mid-Century Modern Kitchen Layout Better – Forbes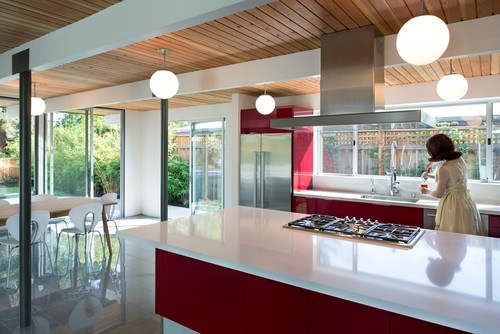 Forbes looks at ways to do a mid-century kitchen remodel for improved modern living. We adore this wood panel ceiling and simple light fittings on this renovation by Modern House Architects.
Source
Mid Century Kitchen Design Essentials – Atomic Ranch

Design magazine Atomic Ranch list the 12 essentials of mid-century kitchen design. The focal point of this glazed floating shelving really attracted us to this airy and warm design layout.
Source
The Midcentury Kitchen – New York Times

Florence Fabricant discusses the 2019 mid century kitchen book by Sarah Archer. This book "starts with the history of the [American] kitchen and then covers the evolution of its features, including the standardization of dimensions and of appliances, advances like freezing and tastes in colour."
Source
Mid Century Style Kitchen – Wood & Wire

Mid century kitchen lighting makes a statement. One of our favourites is this pendant from GUBI.  Originally designed by Louis Weisdorf, a well known Danish architect and designer.
Source
Extraordinary Apartment- Yaroslav Priadka

We were in awe to learn this fabulous creation is actually a 3D render by Yaroslav Priadka. The colours and simplicity of this design really got us going.
Source
The English Rose Kitchen – Homes and Antiques

Our round-up wouldn't be complete without including the English Rose kitchen. Named the 'Rolls Royce' of kitchens, this metal kitchen cabinet company sprang up after the war as the result of surplus material. Homes and Antiques give advice on how to get your hands on a mid-century retro kitchen like this one.
Source
Colour Block Kitchen – Dries Otten

We're a big fan of Belgium based designer Dries Otten. His talent for colour blocking is impressive. Here it's demonstrated perfectly in his Amsterdam kitchen.
Source
Choosing Rubber Flooring- Realhomes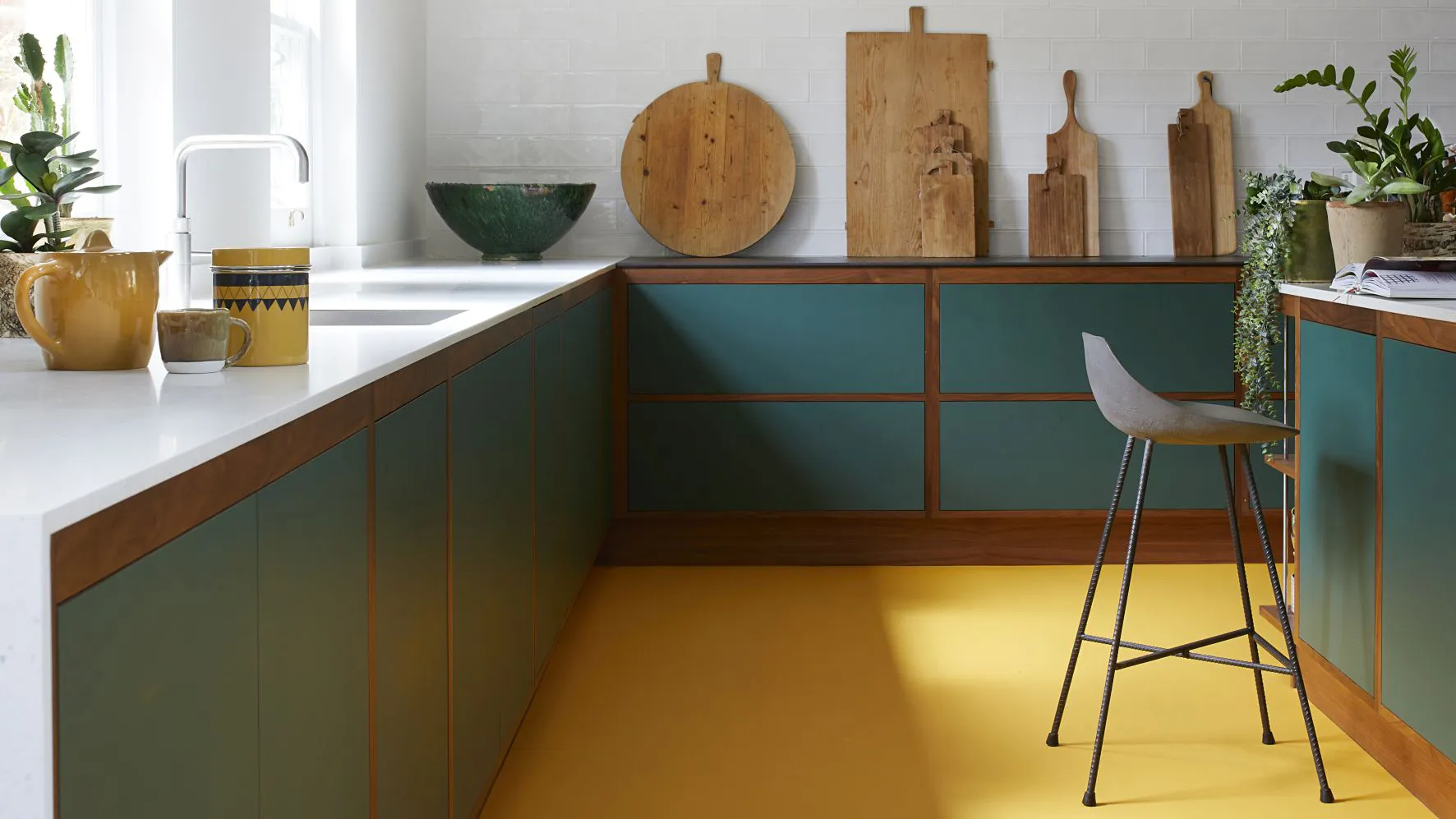 The mid-century period celebrated new materials and technologies. The Real Homes article tells you everything you need to know about choosing rubber flooring, which we think would be perfect for a mid-century modern kitchen floor.
Source
Stylish Mid Century Modern Kitchen – DigsDigs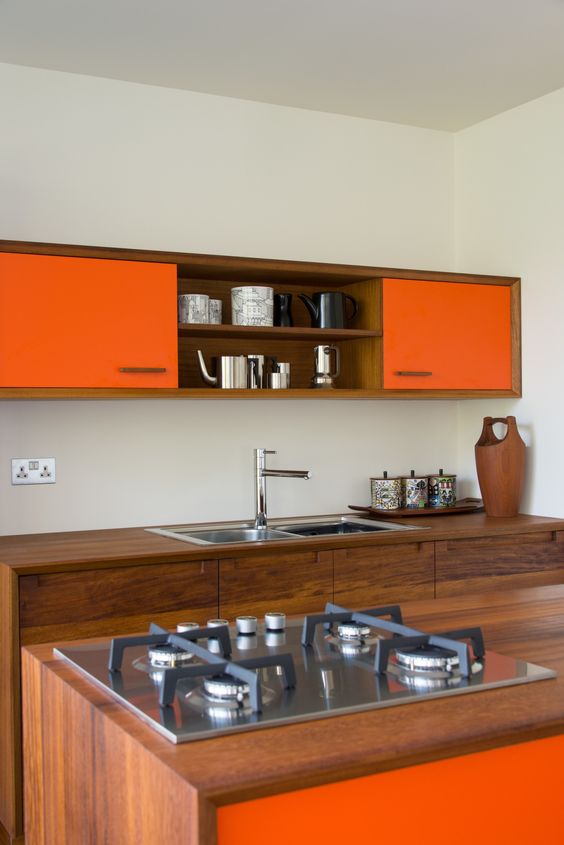 We think that orange and Walnut is one of the best colour combinations of this era. This midcentury kitchen in the Digsdigs round-up shows us how well the two complement each other.
Source
Kidkraft Mid Century Kitchen – Kidcraft

How could we resist not including the charms of this mid-century kitchen from Kidcraft? Fabulous colour, geometric mid backsplash tiles, state of the art appliances and sliding door wall cupboards. Kitchen love starts young and we're sold.
Source